The ESRIC Start-up Support Programme (SSP) announces the second incubated start-up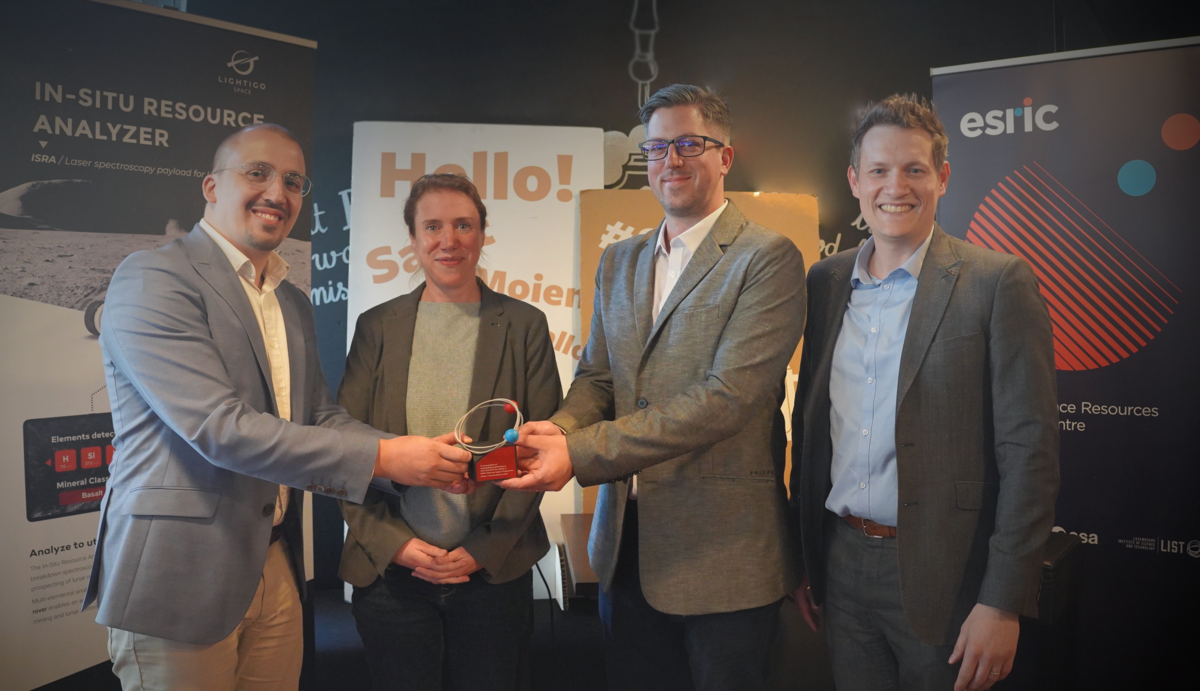 The second round of the ESRIC Start-up Support Programme has officially concluded and our selection committee has chosen the second start-up that will continue their launchpad journey as part of the ESRIC Start-up Support Programme (SSP2).
For the second round of the programme, the committee composed of members from ESRIC, Technoport, LSA, LIST and ESA, chose Lightigo Space from a pool of five excellent start-ups coming from Canada, the US, Poland, Luxembourg, and the Czech Republic.
On this upcoming 24 month incubation phase, the venture will set up a registered business branch in The Grand Duchy, hosted at Technoport and will receive additional technical, business and marketing support from a team of experts in business innovation, as well as funding in the form of a non-repayable grant of up to €200,000.
"Over the next five years we will continue our efforts to develop the Luxembourg Space Sector as a vector of diversification for the Luxembourg economy, but also as a major contributor to the sustainability of activities on Earth, by favoring a responsible approach to activities in space." – Franz Fayot, Luxembourg Minister of Economy
During the ESRIC pre-incubation phase that lasted for three months, Lightigo Space, originally from Brno, has validated a technology business proposal ISRA - In-Situ Resource Analyzer ISRA, a commercially available LIBS (Laser-Induced Breakdown Spectroscopy) payload for lunar prospecting and regolith survey. The team of experts has selected several industry applications to focus on, amongst which mining as primary, enabling them to progressively upscale and tackle space applications for regolith prospecting and surveying of celestial bodies.
Concretely, the technology proposed by Lightigo Space called LIBS is a solution already implemented on Mars and gaining increasing popularity for missions on the Moon. It comes with robust instrumentation and detection of volatiles and light elements, as well as capabilities for classification of minerals. Within the space resources value chain, Lightigo Space is covering the first step - Prospecting, aiming to expand to mining, refining, and manufacturing.
On the short term, the ambitious venture aims to put their solution to work towards terrestrial use and raise enough funds and gain sufficient experience by 2025 to continue developing their technology further and send it to space by 2030.
"It is critical to redefine the commercial operation model to have a business impact as quickly as possible and in a dual-market scenario (terrestrial and space). " – Olivier Zephir, Head of Business development & innovation, Technoport.
The third round of the ESRIC Start-up Support Programme is now open and receiving applications until 30 June 2023. A webinar will be organised on 05 June, offering interested applicants the opportunity to find out more and ask questions to the organising team from ESRIC and Technoport.
"The ESRIC Start-up Support Programme is now already well established as the first world-wide programme entirely dedicated to space resources. We are happy to promote Lightigo Space to the incubation phase of the programme and continue to grow the local and international space ecosystem." Lari Cujko, Startup program lead, ESRIC.
Together with the development of our commercialization pillar, the research activity gathered significant momentum at ESRIC since its creation in 2020. "One of ESRIC's key activities is to support the emerging business sector in space resources, by integrating the new ideas generated by the start-ups within our dedicated research activities and prepare the next generation of space explorers. " Kathryn Hadler, Director of ESRIC.
Background information:
Launched in 2020, ESRIC is an initiative of the Luxembourg Space Agency (LSA) and the Luxembourg Institute of Science and Technology (LIST) in strategic partnership with the European Space Agency (ESA). It is a unique place where technologies, businesses and people meet to drive the future of space resources utilization in support of space exploration and the creation of an in-space economy.
The Start-up Support Programme is the first worldwide incubation programme, entirely dedicated to the field of space resources utilization. It aims to support early-stage ventures and start-ups designing novel technologies for space resources applications in refining their business plan, attracting customers, and securing their first investments.